The Tale (Tail?) of Minou's 5 Kittens.
(c)*Susan Elizabeth Dykhuis_28-March-2011
(c)*AKA Sasha Gold, Sasha Canadian
Born Saturday, March 5th 2011 in Montreal, Canada
3-5-11 :
Odd numbers must be written in the Stars decreeing these kittens are "The Lucky Kittens" as Minou has been sheltered and her kittens born inside at my neighbour, Abbey's place. Abbey and I were the doulas!
Minou was abandoned by some worthless human. Cared for by both Lacey and me became Minou's fate. Minou came to both homes for food…probably caught the scent of food because I feed Ebony, a big black feral male beauty.
2010-2011 Winter, the third one where Ebony comes to dine twice daily. He comes to dine year round. Minou came one night; Ebony didn't object which provided the tip-off this beauty was:
a) female
b) neutered male
Correct answer: a)
Minou loves the gazebo and patio where Lacey lives with her sister, Avril and their mother, Abbey. She spent Summer 2010 living there. Although well fed by Lacey, Minou could not resist eating Ebony's food, so she would spend a part of the day on our patio or under the front balcony where Ebony has dined since Spring 2008.
Ebony sired one kitten for sure! The little black furburst looks exactly like him. The grey/white kitten looks like our darling Felix (a rescued kitty) but Felix is neutered and strictly indoor — not the Daddy. The other three kittens look mostly like their lovely Mamma, the Queen Minou and a bit like our Norman who is 15 now, strictly indoor kitty, neutered. Our third indoor Kitty is Baby-Rascal, rescued, neutered, FIV+ thus hard to place, so I kept him.
There is another kitty who came to Ebony's window to dine this Winter. Ebony was not receptive as the interloper was an intact male. I dubbed him "Oranje". He is gorgeous and friendly. Oranje appeared just after Hallowe'en, not mewling but hollering for food. Another human – one of many I'd love to drop onto an ice floe in the middle of the Arctic Ocean -- abandoned Oranje. Coaxed Oranje to come in through the basement bathroom window which is under the front balcony. Next day, off to veterinarian for sterilization, inoculations, testing, the whole $500 treatment. Oranje is now up for adoption but only to a loving Purr~ent who will keep him as a strictly indoor kitty and spoil him rotten.
Getting back to the Tale of Minou, Abbey and her daughters realized Minou was pregnant so began lining up good homes for her kittens. Not knowing how many were due, they wisely decided to consider the possibility of five or six kittens needing loving, furever families. So far, it looks like "
mission accomplished
".
Will Minou continue to live with her trio of protectors? I hope so. They have a cute tiny dog, the Princess named Tiffany whom any male kitten will outgrow. Tiffany and Minou would need time to adjust. Personally, I don't see that as an issue. When I was a child (one of 5 children) our parents allowed us to have many pets. We brought an uber young puppy whom we named Tammy into our home where our cat, Mini was nursing her five kittens. We also had "big" Kitty (male cat) at the time. Tammy outlived the cats and a few years later my mother let me adopt a five-week old kitten, Pussy. Minou looks like my beloved Pussycat who was actually named Samantha but answered only if we called her "Pussy".
Home with my parents and siblings was The Palace ruled by gentle paws. It was not too difficult, it usually took just a few days for new pets of the same or other species to adjust to each other.
Growing up with 3 sisters and 1 brother, our home was home to humans, dogs, cats, birds, an Aquarium full of fish, and yes! all of us lived together. The pets most likely were not only less worry for our parents; they argued less than than the 5 of us did.
Lacey is deeply in love with Minou. The happy solution for Lacey & Minou is for Abbey to accept Minou as the resident Queen Cat. The Princes Pup and The Queen Cat will adjust, accepting "their family" as being Abbey, Avril, Lacey, and each other. For Minou this would be the life every pet deserves: a loving, protective furever family.
Were I super-rich I'd have plenty of dedicated and loving staff to help me with all the rescues who find me. I'd be able to provide a proper facility to house each one until a loving furever family were found ...
And as for the odd numbers I bought a lotto ticket with 3-5-11 in the number line.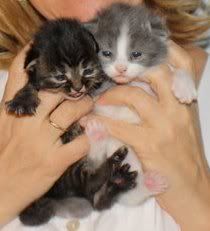 The Grey/White (Felix not the Papa) and Kitten who looks like Minou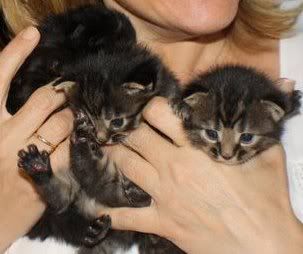 The Black Kitten (Ebony's kitten?)& the Twin Kittens...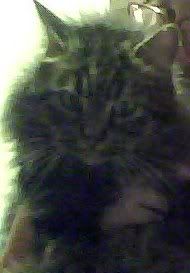 Minou, The Mamma Queen Cat

KITTEN UPDATE: Tuesday, April 5th, 2011
Minou's Five Kittens are one month old today!!

Kitten photos (c)Guerriero
Minou photo (c)Caucci
The Tale (Tail?) of Minou's 5 Kittens.
(c)*Susan Elizabeth Dykhuis_28-March-2011
(c)*AKA Sasha Gold, Sasha Canadian